Retreat Plan on 9/30! Yoga & Glamping RETREAT - reset & renew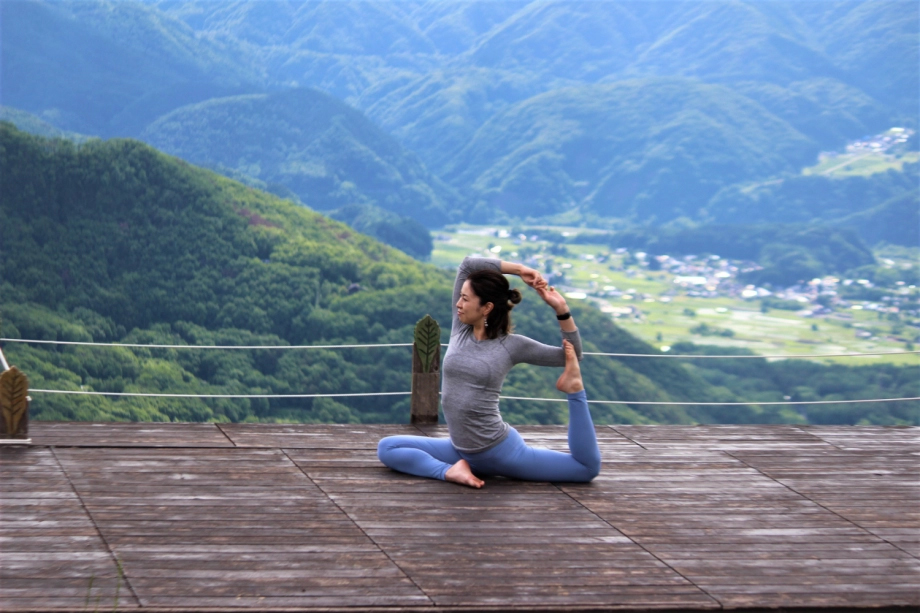 As a new method of refreshing for modern individuals living in a stressful society, the approach of "retreat" has been gaining attention. Retreat refers to a way of taking a few days away from familiar surroundings to heal the tired mind and body from work and relationships. It has already gained popularity overseas and has become more commonly heard in Japan in recent years.
For the 2023 season at FIELD SUITE HAKUBA, we have partnered with Ms. Kayo Tamura, representative of "yoga journey," who has provided yoga instruction to over 50,000 students. Together, we have prepared a retreat plan with the theme of "purification and regeneration of the mind and body."
For meals, a chef who trained for six years at a starred restaurant in Italy will showcase his skills by preparing a course menu using local ingredients paired with rare wines from Nagano Prefecture. After dinner, you can enjoy a stargazing show with your favorite drink at the outdoor bonfire bar.
Please indulge yourself in the abundant time amidst nature comfortably.


[Schedule]
DAY 1
13:00: Gather at the JR Nagano Station gate ⇒ Move to the venue by private car

14:30: Arrival at the venue ⇒ Move to respective rooms and leave luggage after check-in

15:00 - : Orientation & participant self-introduction at Kamoshika Lounge *With a welcome drink

15:30 - : nature YOGA experience (75 minutes) at Woodchip Plaza in front of Kamoshika Lounge *In case of inclement weather or low temperature, indoors

17:00 - : Dinner (starting with an aperitif while enjoying the magnificent view)

20:30 - : Option 1: Bath time or Option 2: Social gathering around the bonfire at Takibi (Bonfire) Bar

21:30 - : Bedtime


DAY 2
4:00 - : Option 1: Morning bath *For those who wish

5:00 - : Sunrise yoga & meditation (60 minutes) at Sunrise Deck area
*In case of inclement weather or low temperature, indoors

6:00 - : Option 2: Morning bath *For those who wish

7:00 - : Breakfast

9:00 - : Option 1: Check-out (receive a lunch box) or Option 2: Leisure time until lunch or Option 3: Happo-One Ridge Light Trekking Tour

12:00 - : Lunch

14:00 - : Dismissal ⇒ Move to JR Nagano Station by private car



Event Date:
Saturday, September 30, 2023 


Fee:
Per person: 88,000 yen (tax included) - Includes 1 night, 2 days, 3 meals, and program participation fee.
*Note: Lunch on the first day is not included in the plan.
*Meals will be a special Italian creative course at FIELD SUITE HAKUBA. Please inform us at the time of booking if you have any allergies or ingredients you dislike.
*For solo participants, rooms will be shared in twin rooms, and room assignments will be made by the organizers. Please understand this in advance.


Target Audience:
Beginners to experienced individuals, both male and female, are welcome to participate.
*Please note that our facility generally does not accommodate children under the age of 10. Customers aged 10 and above should apply as one adult.


Notes Regarding Yoga Participation:
- If you are currently undergoing medical treatment or taking medication, please participate with the permission of your primary physician and family.
- Pregnant individuals are kindly requested to refrain from participating.
- Individuals who have given birth within six months are kindly requested to refrain from participating.

What to Bring:
- Comfortable clothing suitable for movement.
- Yoga mat *Please bring your own mat, as rental mats are not provided.


Application:
https://reserve.489ban.net/client/fieldsuite-hakuba/4/detail/752579


Application Deadline:
September 27, 2023 (Wednesday)


Studio yoga journey Official Website:
https://yoga-journey.yoga