【FIELD SUITE HAKUBA CUISINE TOPICS -1-】FIELD SUITE HAKUBA Exclusively Reserved: Chef's Day - Exploring Regional Dishes from Three Italian States at Hakuba Kitaone Kogen Highland"
In the 2023 Green Season, we will be introducing several new services such as "24-Hour Stay" and "pre-Trip Concierge." Additionally, we are also focusing on the field of "cuisine," which is one of the major attractions at FIELD SUITE HAKUBA, and we have various initiatives planned for this year.
Therefore, we would like to introduce topics related to these culinary experiences in a series called 【FIELD SUITE HAKUBA CUISINE TOPICS】, and For the first installment, we will provide details about Chef's Day.
Chef's Day has been organized in response to numerous requests from our customers for special events related to Chef Shingo Suzuki, such as cooking demonstrations and recipe workshops.
Here are the key points of Chef's Day:
Exclusive to One Group: While FIELD SUITE HAKUBA is typically available for corporate reservations starting from 1.2 million yen (tax included) for the entire facility, this special program is limited to a group of 2 to 4 people, who will have exclusive access to the entire FIELD SUITE HAKUBA. The cost for two people is 350,000 yen (tax included), and for four people, it is 700,000 yen (tax included).

Private Chef: Chef Shingo Suzuki will be dedicated exclusively to one group during their stay. We will do our best to accommodate your specific preferences and customize the experience accordingly.
We realized that the term "customize" was too vague, so we have added more specific details to this aspect. In this installment, we will introduce the specific contents of Chef's Day.
First, let us introduce Chef Shingo Suzuki's background.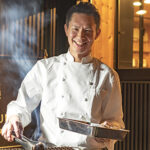 Chef Shingo Suzuki attended a university in Kyoto after graduating from high school in Fukuoka. It was during his language study abroad program that he first visited Italy and became captivated by the deliciousness of Italian cuisine which solidified his determination to pursue a career in Italian cooking. After graduating from university, he trained at the renowned Italian restaurant Ristorante Ponte Vecchio in Osaka before heading back to Italy. He honed his skills for six years at Michelin-starred restaurants and then went on to work at the Ristorante of BULGARI in Tokyo before assuming the position of exclusive chef at FIELD SUITE HAKUBA.
The Michelin-starred restaurants where Chef Suzuki trained in Italy are as follows: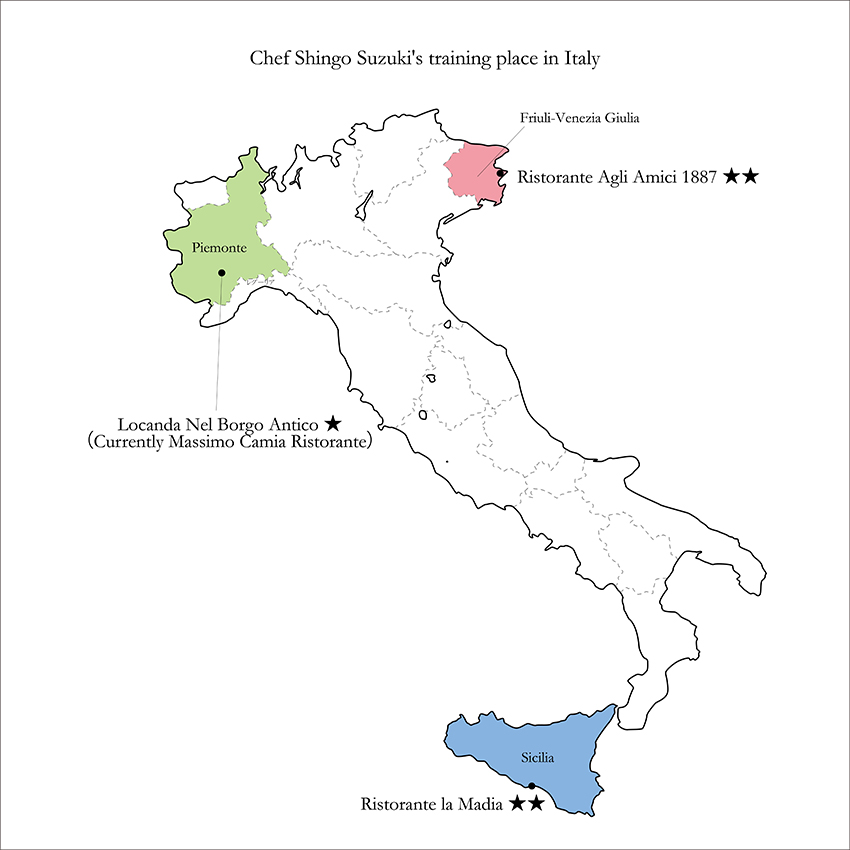 Italian cuisine varies greatly depending on the region, and Chef Suzuki's training in three different areas of Italy, namely Piedmont, Sicily, and Friuli-Venezia Giulia, allows him to bring diverse experiences to his culinary creations.
Building upon his experiences, this year's Chef's Day will revolve around the theme of "Exploring Regional Dishes from Three Italian States at the Hakuba Kitaone Kogen Highland."
From aperitifs to appetizers, pasta, main courses, cheese, and desserts, the menu will showcase dishes inspired by the characteristics of Piedmont, Sicily, and Friuli-Venezia Giulia. Each dish will be soulfully paired with an Italian wine selected by Sommelier Sho Yoshihira.
While we would like to keep most of the details as a surprise for the actual event, the traditional regional dish from Piedmont, Aniolotti, which was introduced in the opening image, will be accompanied by a wine made from an intriguing grape variety called Timorasso. It is a rare wine that has undergone fermentation and aging in wooden barrels, resulting in a mature and richly textured wine with a distinct softness derived from the ripe stone fruit and oak.
These Chef's Day exclusive menus will be prepared in front of the guests, who will also be able to see the cooking process. Additionally, the following morning's breakfast is planned to be prepared in an Italian style.
If you have any questions or need further information, please contact our concierge.
Chef's Day
Date

- Tuesday, June 13
- Wednesday, June 14*
- Tuesday, June 20*
- Saturday, June 24*
- Tuesday, July 11

* The originally scheduled date of Tuesday, June 27 is no longer included, but the dates in blue have been added instead.

Fee

Fee for two persons: 350,000 yen (tax included / standard stay + FIELD SUITE & chef all to yourself)

Fee for four persons: 700,000 yen (tax included / standard stay + FIELD SUITE & chef all to yourself)

Reservation Site
https://reserve.489ban.net/client/fieldsuite-hakuba/4/detail/727349
Contact

 

(Phone) 090-2524-4555(9:00-17:00/

closed on weekends and holidays

)


(E-mail) fsh@happoone.co.jp


* If your inquiry is in English, please contact us by e-mail so that we can provide you with a more accurate answer.