"FIELD SUITE HAKUBA" Featured in the 'Trainvert' Magazine (November 2023 Issue) Special Feature: "Discover Nagano Wine"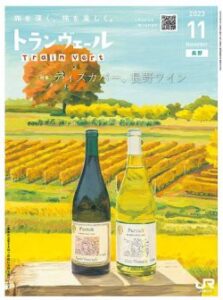 In the "Discover Nagano Wine" special feature of the 'Trainvert' magazine (November 2023 issue/East Japan Railway Company), FIELD SUITE HAKUBA's dinner pairings were highlighted.
Sho Yoshihira, the sommelier at FIELD SUITE HAKUBA, serves as the guide, introducing the production sites of popular vineyards such as "Cyclo Vineyards" and "Cantina Riezo."
'Trainvert' magazine is an onboard magazine issued by JR East for Shinkansen passengers (Hokkaido, Tohoku, Joetsu, Yamagata, Akita, Hokuriku), and it is available in the seat pockets of the Shinkansen, so please take a look.
For more details, please visit here (Japanese):
https://www.jreast.co.jp/railway/trainvert/