Information on Various Optional Activities
We offer a variety of optional activities for you to enjoy during your stay or after check-out.
Please apply by e-mail at least three days before the date you would like to reserve.
Please note that some activities may not be available depending on the reservation status.
All prices are tax included.
Body Massage
An exquisite massage on the guest room deck while enjoying a spectacular view of the Northern Alps. You can relax your body and mind while listening to the sounds of nature. Massage service for two persons is also available.
Please reserve a time between check-in and before dinner time, and the following day from 8:00 until check-out.
<Menu>
Body Care (60 min.)       8,250 yen
Body Care (90 min.)       11,550 yen
Reflexology (45 min.)       6,600 yen
Reflexology (60 min.)       8,250 yen
Guided Trek to Happo Ike Pond 33,000 yen per Guide
This plan offers you a one-and-a-half hour trekking course one way, taking two lifts from FIELD SUITE HAKUBA (FSH). The view of Happo Ike Pond reflecting the Hakuba Three Peaks offers some seriously spectacular scenery in Hakuba and has been selected as one of the 100 most beautiful views in Japan. This fun and safe trekking course will be conducted by a knowledgeable guide familiar with the alpine flora and the mountains.
Happo Ike Pond trekking is an activity from mid-June until

the end of October.

Time required: 3 to 4 hours

Transportation from Kitaone Kogen Highland to Kurobishi (outbound: 8:30/9:30, return: 11:30/12:30)

Transportation to and from the lift station and lift ride fees are included in the accommodation fee.
For your reference:
https://www.happo-one.jp/en/trekking/
Lake Aoki Private Canoe Lunch - 55,000 yen per boat charter
Lake Aoki is one of the three lakes of Nishina, located in Omachi City next to Hakuba Village. It is highly transparent, has a depth of 58 meters, and is the deepest lake in Nagano Prefecture. Enjoy a canoe ride on a beautiful lake with a guide and enjoy lunch while relaxing. FSH lunch boxes will be served in the canoe (with beverages).
<Schedule> * Suggested activity after check-out.
11:30       Departure from Kitaone Kogen Highland - Transportation to Lake Aoki
12:00-13:00       Private canoe lunch
13:00       Pick up
Lake Aoki Canoe Picnic - 49,500 yen per boat charter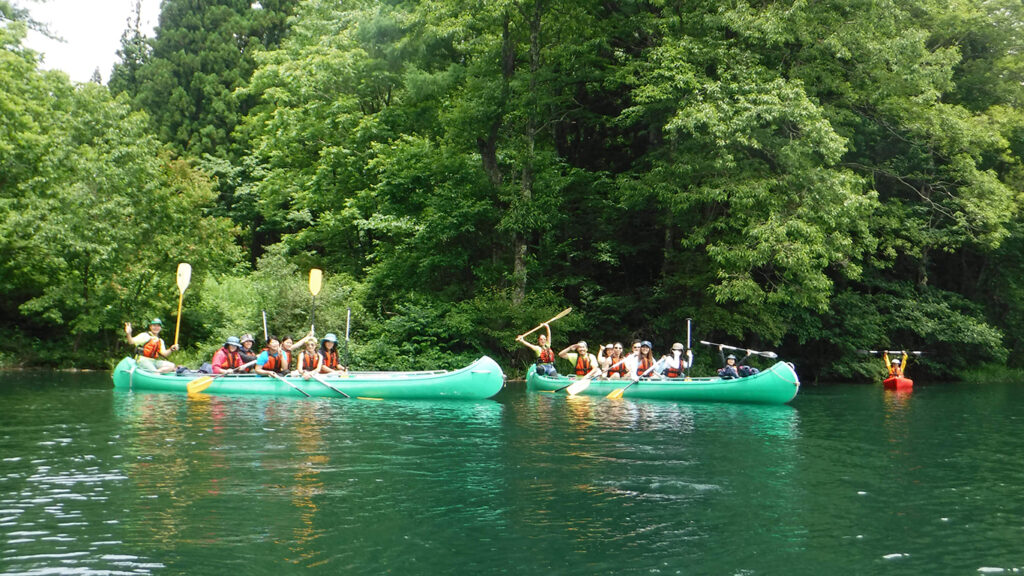 After exploring the lake by canoe, we will go ashore and have lunch by the lake. On hot days you can even swim in the lake! The guests are asked to help paddle when they feel like it, but the canoe operation is basically left to the guide. FSH lunch boxes will be served. (with beverages).
Duration: 2.5 hours (11:30-14:00)

Bring shoes or sandals that are either waterproof or can get wet.

The fee includes a guide, paddles, and life jackets.
<Schedule> * Suggested activity after check-out.
11:30       Departure from Kitaone Kogen Highland - Transportation to Lake Aoki
12:00 - 12:30       Explore Lake Aoki by canoe
12:30 - 13:30       Picnic lunch
13:00       Pick up
Paragliding Experience - Tandem flight 15,000 yen per person
Hakuba Happo-One is the ridge that extends east from the Northern Alps, the roof of Japan in Nagano Prefecture, and Hakuba is the closest town in Japan to the Alps, where you can enjoy paragliding. Enjoy the best experience and the best view you've ever had. The flight will take off from the designated take-off area (elevation 1400m) located next to the gondola lift summit station and land at the landing area (elevation 750m) right next to the Hakuba Ski Jump Stadium. It is a long flight with an altitude difference of 650m for an exhilarating 10 minutes in the sky. No previous experience is required, and the flights are offered to anyone looking for a new adventure. Guests will be provided with a pre-flight brief. Of course, professional pilots do all the piloting, so you can fly as soon as you run about 10 meters into the launch, and you will be ready for take-off.
Duration: Approx. 1 hour (Reservations are between 8:00 – 15:00, on every hour)

The fee includes transportation to and from the site and safety management fees.

 

Please note that weather conditions may cause a longer wait time at take-off.
Himekawa Rafting - 40,000 yen and up per boat charter
Enjoy the exhilarating rafting with spectacular views of Hakuba on the Himekawa River, where snowmelt and spring water flows from the Hakuba mountains! Children, families, groups, and couples can all have fun!
Duration: 2.5 hours (9:30

~

/13:30

~

)

Reservations are accepted from 2 persons.

The event will be held rain or shine, except in the event of a typhoon or when the water level is higher than specified.

We may not be able to accept reservations from early August to mid-August due to the large number of horseflies that are characteristic of the region.

Bring a T-shirt or long sleeves and half pants (or swimsuit) that can get wet.

Bring shoes or sandals with secure heels that are either waterproof or can get wet.

The fee includes paddles, life jackets, and helmet equipment.
Hakuba Rickshaw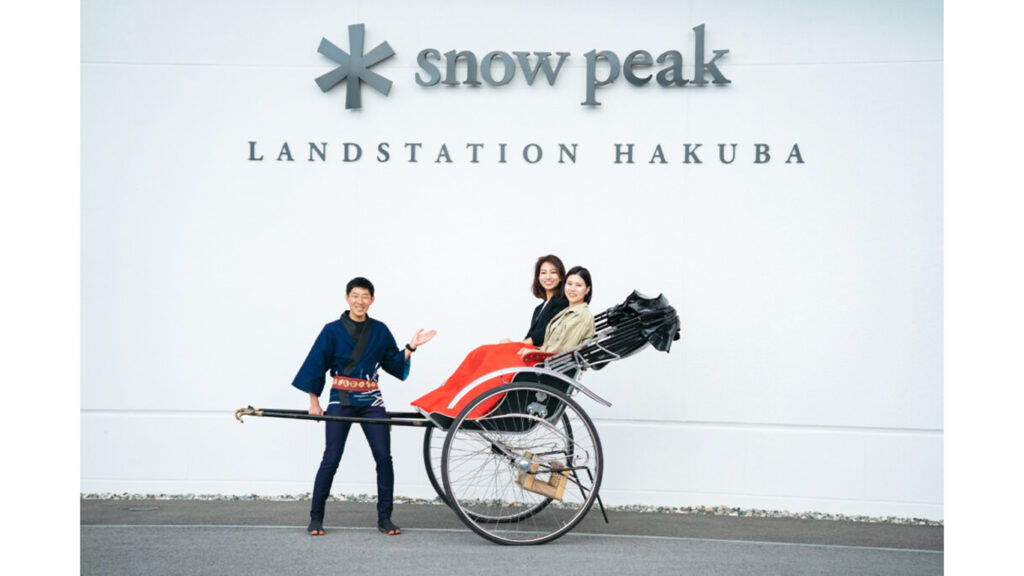 The Hakuba Rickshaw will be an activity from July 1 to November 1. Why not take a rickshaw ride around the local sights while enjoying the spectacular view of Hakuba? Our Rickshaw pullers are proud of their physical strength and will guide you to popular, historical, and interesting places and eateries in the village.
< Fee>
Easy strolling course (Duration: Approx. 1.5 hours)
2 persons             24,000 yen
1 person               19,500 yen
Leisurely tour course (Duration: Approx. 2 hours) 
2 persons             32,000 yen
1 person               26,000 yen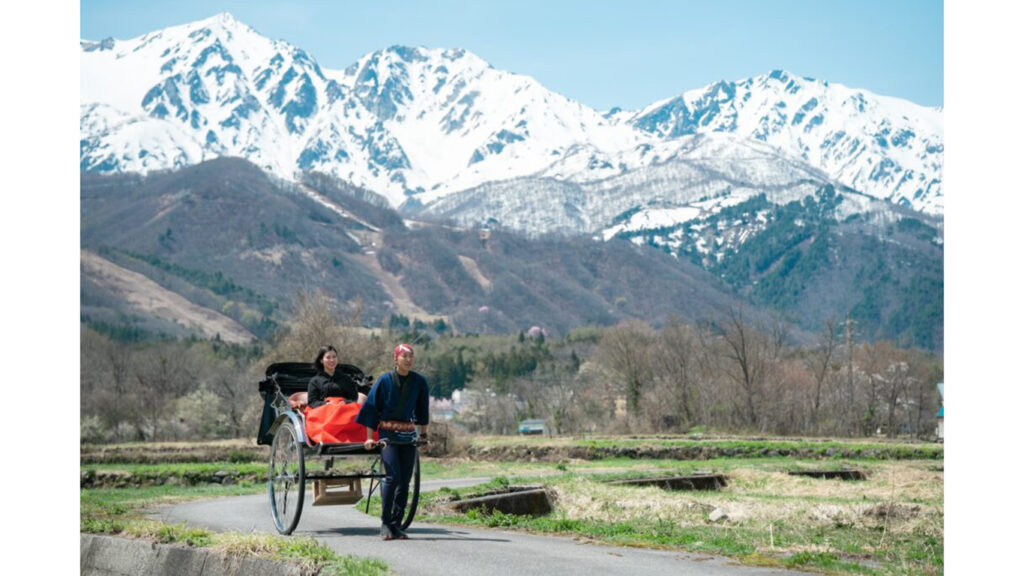 <Model Course>
Meet and begin your ride at Happo Onsen. Then, we will parade through the guest house (minshuku) district with a guide. On the way, we can take your commemorative photos with the Hakuba Three Peaks in the background. Visitors can enjoy the atmosphere along the narrow roads along the river and the historic Salt Road in a way you cannot experience by car.
Our rickshaw puller will propose the day's course in consultation with the customer.
Hot Air Balloon Experience: Morgenrot Sunrise Tour 275,000 yen (up to 4 passengers)
To the west is the red-colored Northern Alps, and to the east is the sea of clouds and sunrise. Enjoy a 360-degree view of the stunning scenery of Kitaone Kogen Highland on a hot air balloon ride! This is an excellent experience that only guests staying at FIELD SUITE HAKUBA can enjoy.
If you have any other requests, please feel free to contact us.