Fine Dining and Magnificent View in the Pristine Snow
Here comes another ski season in Hakuba village, Nagano. A glamping style dinner tour, "Après & Dining" will open at the Snow Peak FIELD SUITE HAKUBA KITAONE KOGEN in late December. The tour includes a full-course dinner with locally sourced ingredients, and each course is paired with a selected local Nagano wine. The extravagant full-course dinner is served in a warm and cozy dining room after skiing hours. Before and after dinner, you can take in the views of the beautiful Northern Alps with evening cocktails around a bonfire. Let's have a look at the behind-the-scenes story of the great pairing of local ingredients and wines prepared by a head chef and a sommelier as well as the best hospitality shown by the tour staff who have so much love for Hakuba village.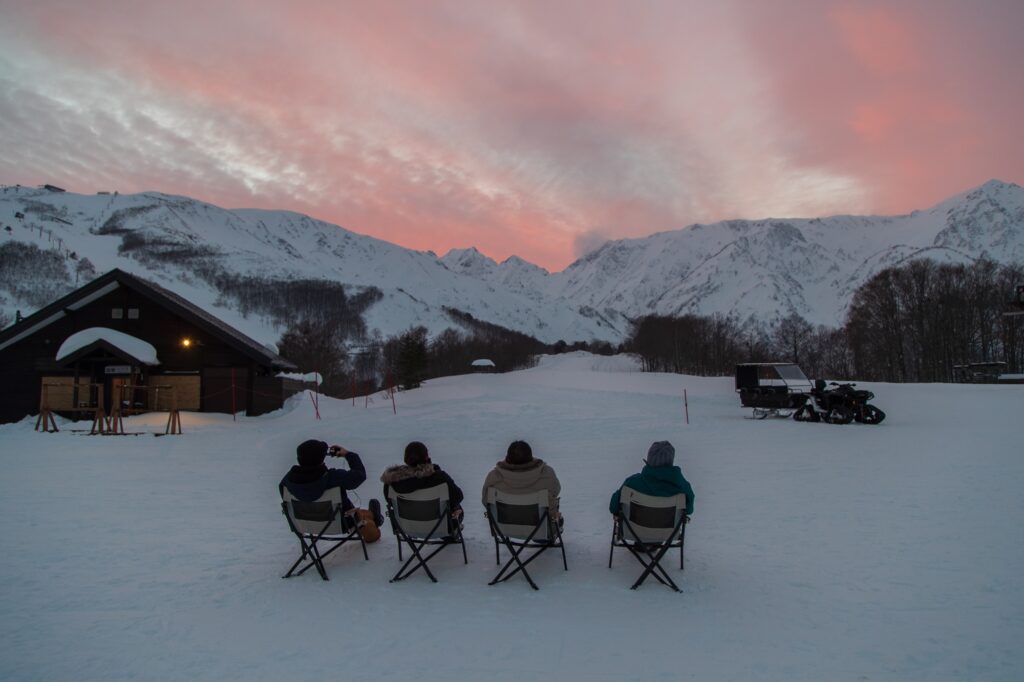 In early December, looking down from a chair lift, you can see the whole world enveloped in carpets of fresh snow, where small footprints of rabbits are found here and there. Getting off the lift at 1,200-meter-high Kitaone Highland, the breathtaking Northern Alps appears right in front of you. On the day before the start day, the head chef, sommelier, and all staff get together to taste the courses and wines prepared for Après & Dining Tour.
Mr. Yoshihira, the wine sommelier, selected about 10 different kinds of wines including red, white, rosé, and sparkling wines produced by Nagano local wineries near Hakuba village. On the table are the beautiful wine bottles with fascinating labels on them. As he runs a wine specialty store in Asahi village, Mr. Yoshihira is familiar with Nagano local wines. He excitedly says, "I predict which wine goes well with each course by looking at a menu. It might be effective to pair rosé or sparkling wines with the Après & Dining courses this time."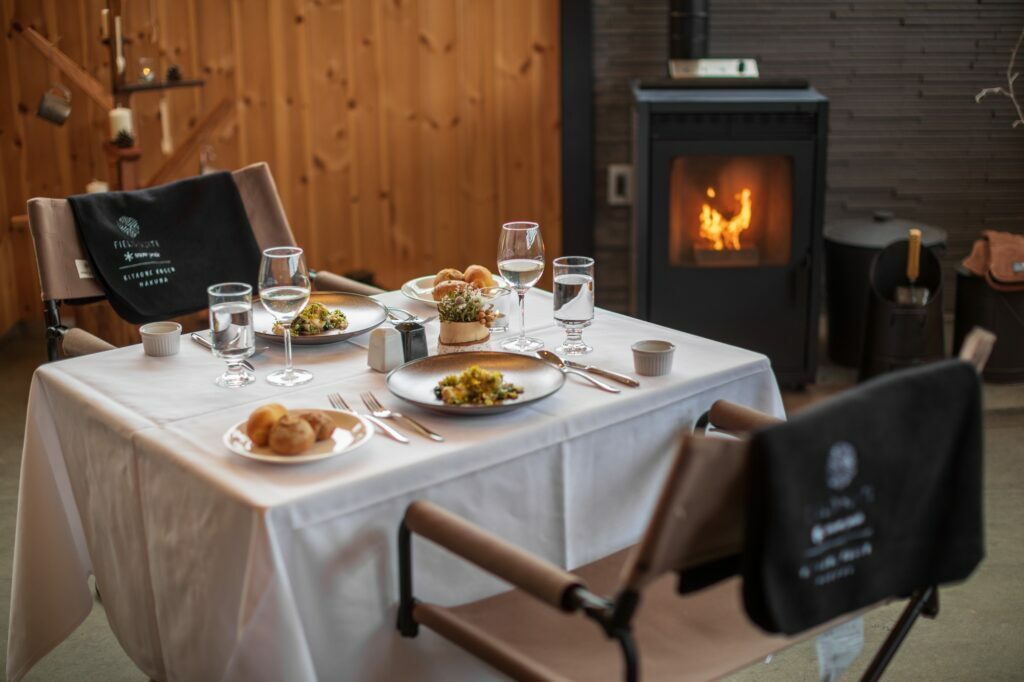 Nagano Prefecture is blessed with natural conditions suitable for growing grapes for wines, and the wines produced within the prefecture have good reputations both at home and internationally. Recently, more and more boutique wineries are certified as "the Special Wine Zone" to be promoted by the prefectural government. There are still many rare wines that are not distributed outside of Nagano. "I select some rare wines to surprise wine lovers and have them get to know unknown local wines" says Mr. Yoshihira.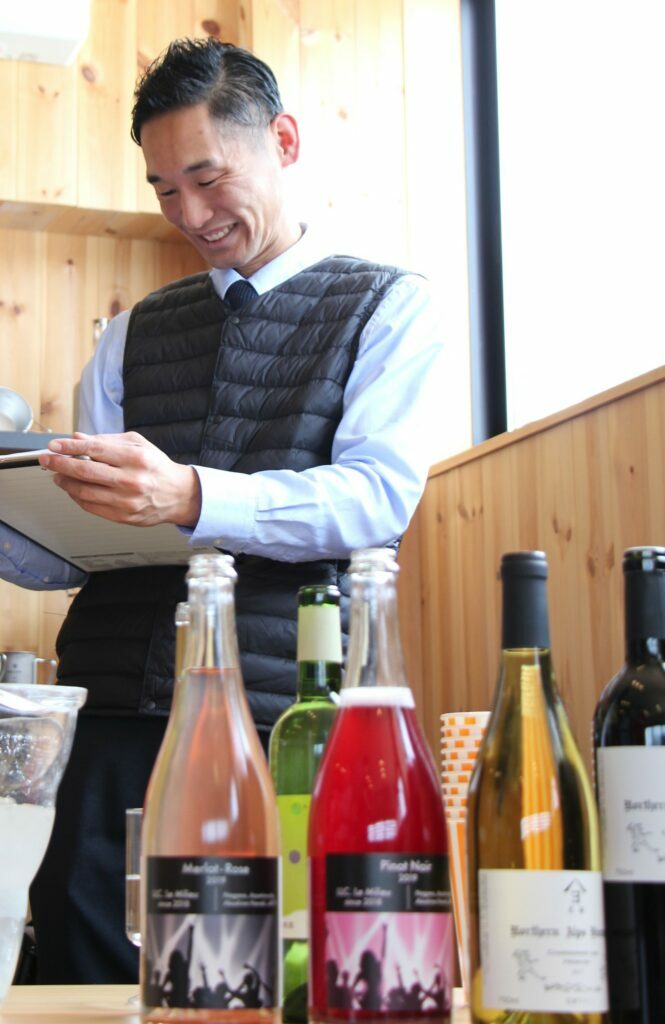 In the meantime, the head chef, Mr. Shingo Suzuki is working on the last course. Mr. Suzuki had practiced in Italy for 6 years and became experienced in restaurants with Michelin stars such as BULGARI Il Ristorante in Ginza, Tokyo. After that, he became the head chef of the FIELD SUITE HAKUBA KITAONE KOGEN opened in 2019. He is the first-ever chef exclusively works for a glamping site.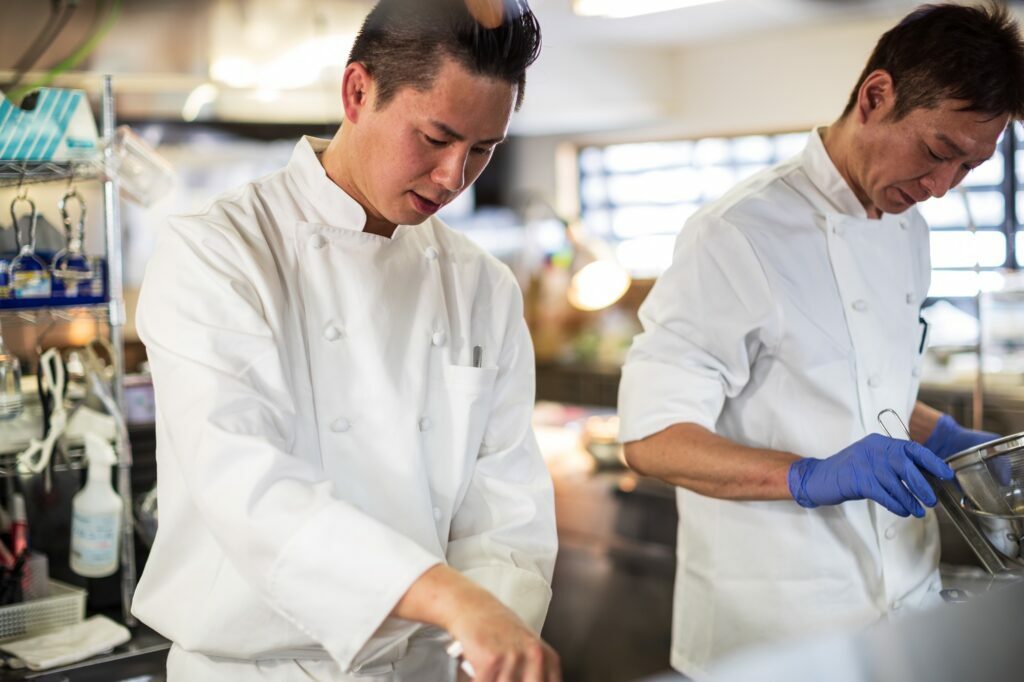 The staff are amazed by a beautiful appetizer that looks just like a Christmas wreath decollated with a variety of colorful vegetables, fruits, and edible flowers.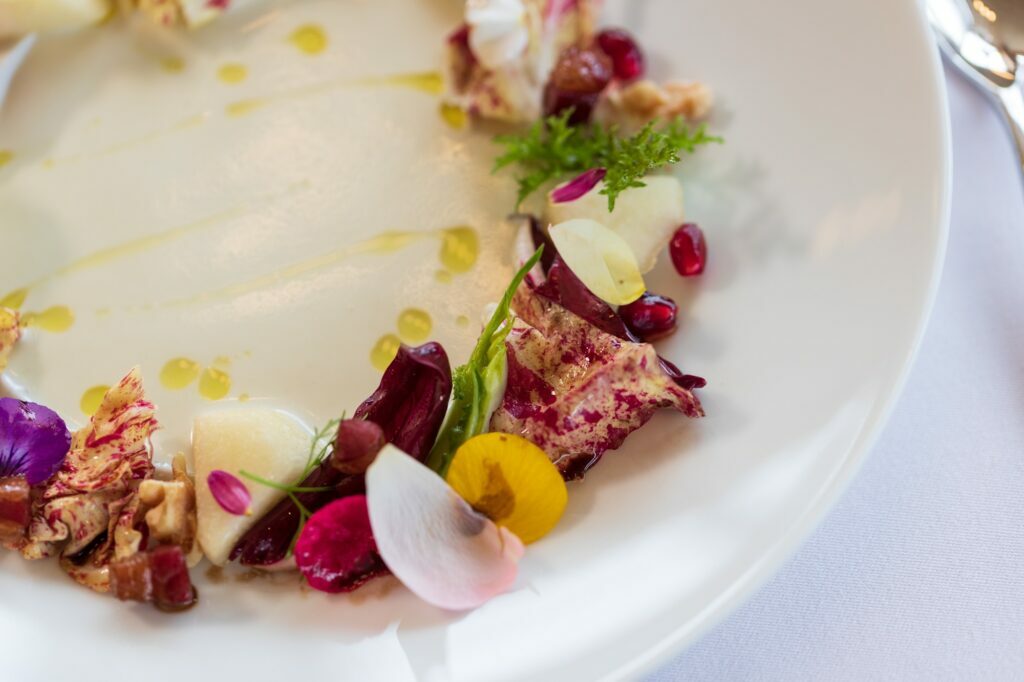 Mr. Suzuki describes the ingredients used for the full-course dinner. "The appetizer has some different kinds of local winter vegetables in it. These vegetables are a bit bitter, so I use pancetta and gorgonzola cheese to add saltiness, balsamic vinegar to add sourness, and pears and pomegranates to add sweetness. Then, I finish the course with edible flowers for a meal presentation."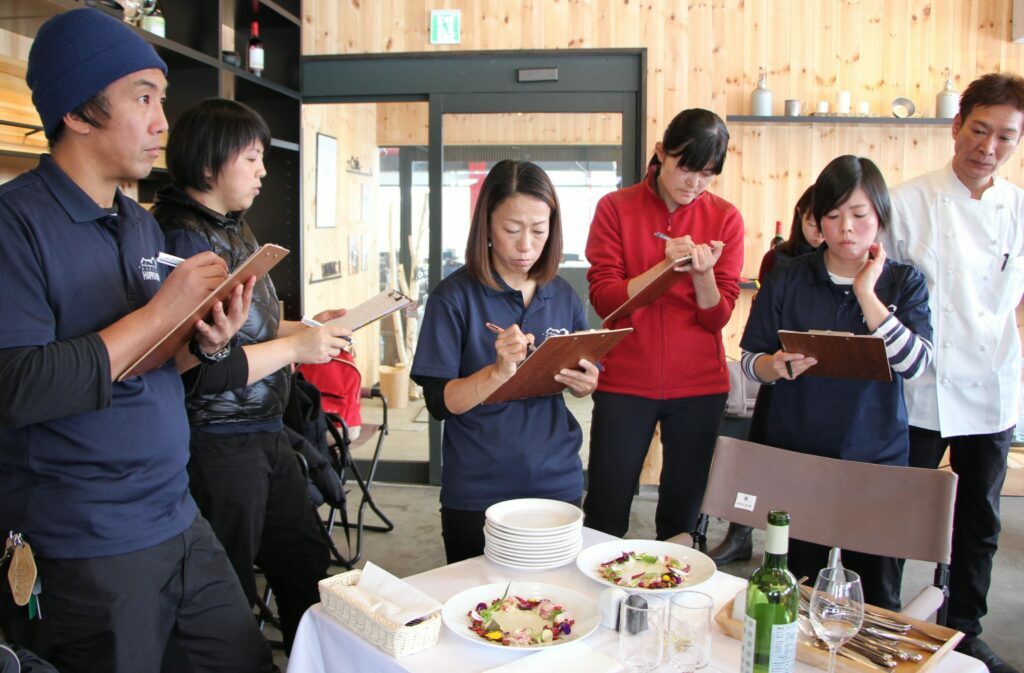 The staff earnestly take notes while the chef is describing the ingredients. "This dressing is made from pancetta and balsamic vinegar, but I am going to use guanciale instead because guanciale do not get stiff easily unlike pancetta" says Mr. Suzuki.
To pair with the appetizer, Mr. Yoshihira suggests a white wine, "Viognier" produced by "Takayashiro Farm" in Nakano city. Viognier is not widely cultivated in Japan. Mr. Yoshihira says, "Viognier has a fruity aroma, so it cuts through the bitterness of the winter vegetables and cheese. It enhances the taste of vegetables."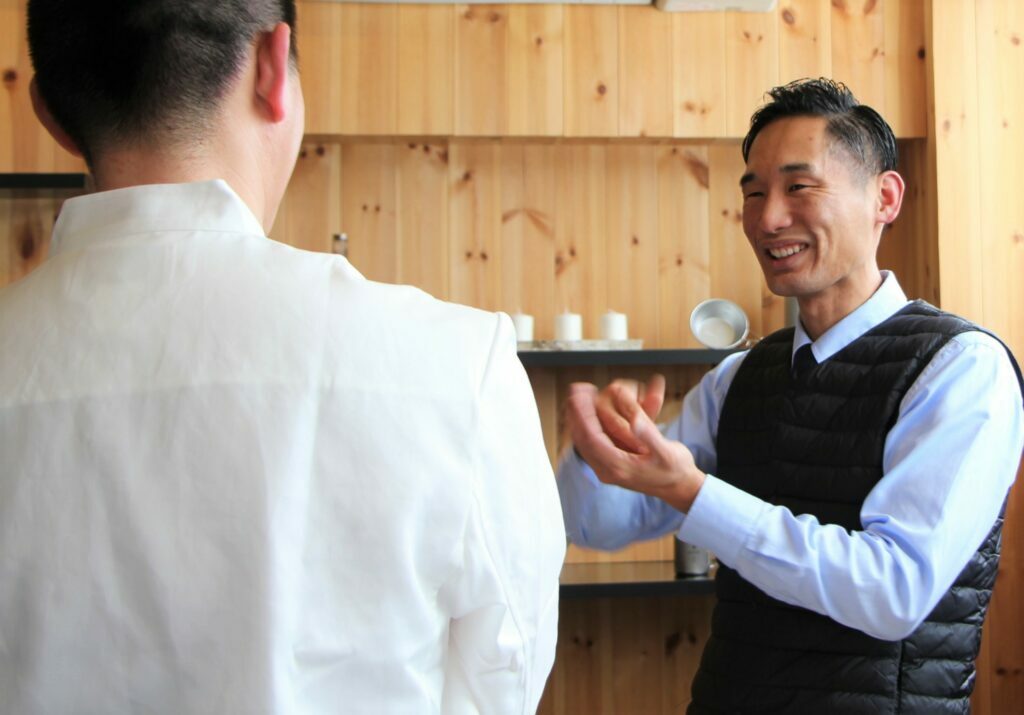 The staff are surprisingly saying, "The wine itself has a refreshing taste, but it becomes tangy when it is paired with the course." Mr. Suzuki is also happy with Mr. Yoshihira's choice of wine, but he does not seem to be satisfied with the meal presentation. The chef asks Mr. Yoshihira for some advice on the presentation.
In fact, Mr. Yoshihira had worked for a Japanese restaurant in Shiga prefecture for about 10 years before running the wine specialty store. That was the time he got qualified as a sommelier. Because he has the experience and knowledge of being a chef, he understands how Mr. Suzuki feels.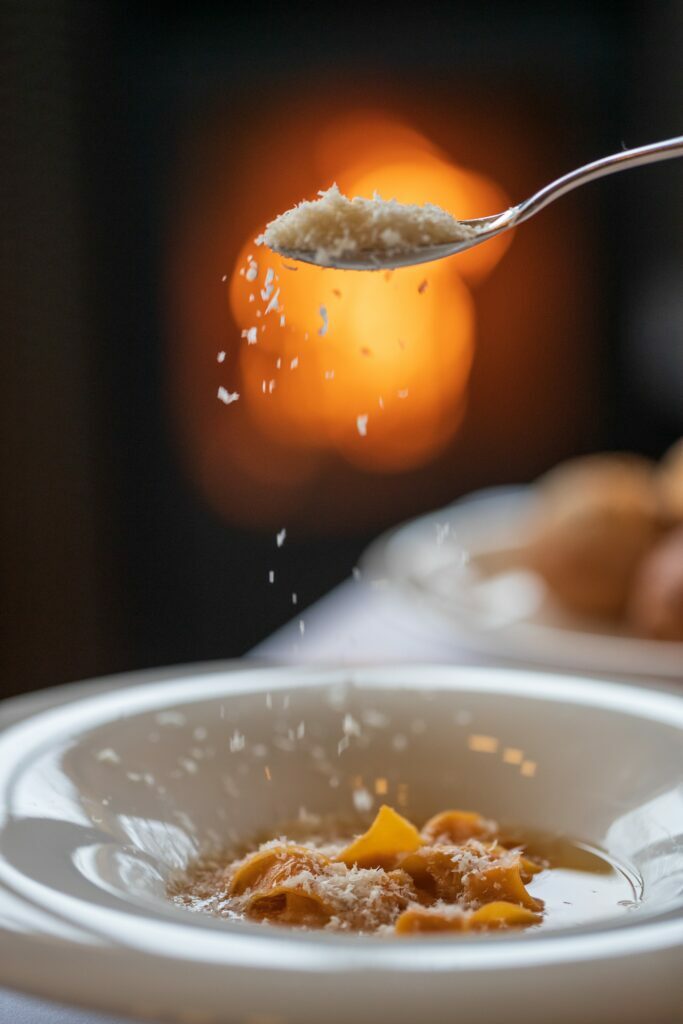 The second course is Shimonoseki pufferfish. "I put heated pufferfish on the sautéed spinach" says Mr. Suzuki. One of the staff follows, "How long do you heat the pufferfish?" The staff are earnest because they would like their guests from all over the world to enjoy the courses and have a comfortable dinner time.
Mr. Suzuki answers, "I put the pufferfish on fire for 10 minutes at low temperature, 55℃. The sauce is made from leeks produced in Matsumoto city, pufferfish soup stock, soft roe, and Yuzu juice. Toppings are Yuzu and fried brussels sprouts."
Mr. Yoshihira takes out "Chardonnay Oak Premium" from a winery, "Northern Alps Vineyard" in Omachi city nearby Hakuba village. "It smells like ground raw nuts and white chocolate. It sure goes well with creamy dishes."
Mr. Suzuki asks Mr. Yoshihira if he should cut the pufferfish smaller. Mr. Yoshihira answers, "The wine paired with the pufferfish has a strong taste, so I think the size of pufferfish is just right. The soft roe is creamy, so the overall impression of the course is gentle." Mr. Suzuki follows, "It might be a better idea to make the fried brussels sprouts crispier. I will go through more trial and error."
These two professionals make the best pairing by drawing on their experiences and intuitions and by interacting closely with each other.
The full-course dinner includes pasta with snow crab sauce, Shinshu local beef fillet, and freshly baked Tart Tatin, which is served by a bonfire. In the reflected light of the snow, you can enjoy the sparkling sky filled with stars.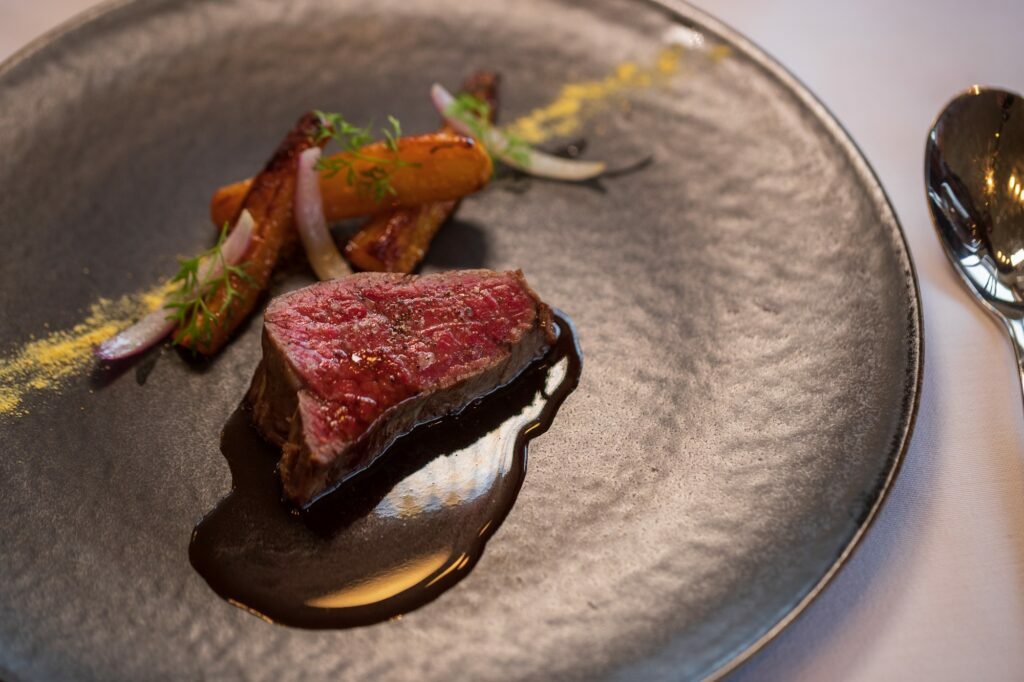 At the end of the dining experience, you will depart the mountain on a snow cat gazing at the starry sky and illuminated night view overlooking Hakuba village. "There is a high possibility that you can see rabbits. You might be able to see Japanese serows, too" says the manager, Mr. Soichiro Yamaguchi. All the Après & Dining tour staff hope that you will be drawn to Hakuba village, not only as a ski resort, but also as a snow resort.
RESERVATION IS HERE↓
https://booking.washokulovers-jp.com/customers/apres-dining?referral=homepage